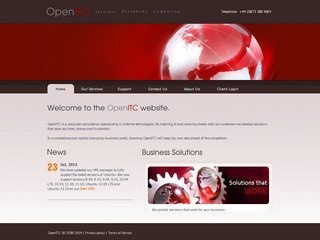 Sean, from OpenITC, has apparently been trying to get listed for a few months now. But oblivious to him, we have a new method for offers. This offer was posted on LowEndTalk a week ago and appears to be exclusive to LowEndBox & LowEndTalk.
OpenITC KVM offer:
1024MB RAM
75GB Diskspace
1TB Bandwidth
4 Shared CPU Cores
1 IPv4 Address
2x /64 IPv6
KVM with their VPS Manager
£ 11.25 Quaterly | Order Link
£ 4.00 Monthly | Order Link
Location: Maidenhead, UK
OpenITC have been in business for nearly 5 years and their company is a registered 'partnership' in the UK. They were featured many times before under their subsidiary "XenVZ" but obviously that brand isn't really usable for KVM so they'd prefer to be OpenITC from now on. XenVZ were first listed in 2008 and, we suspect, once offered the cheapest vps plan ever at the time. Users will use OpenITC's own custom coded control panel to manage their virtual servers as apposed to the popular SolusVM. 37.5GB of Off-site ftp backup space is included with this offer. Seen as they haven't been listed in nearly a year, please share you experiences with them or XenVZ below.

With their panel, you can install any Operating System you like via the recovery console (VNC or Spice with TLS) and you can virtually mount any CD/DVD from a HTTP server, basically allowing you to install any .iso. You can also set the disk driver and the network model. Whilst it fully supports both IPv4 and IPv6, at present only rDNS on IPv4 addresses can be instantly configured. Cgroups have been fully implemented, allowing OpenITC to control CPU and Disk I/O.
Disk throughput is capped at 180MB/s and Disk IOPS is capped at 540 (Completely Fair Scheduler). They accept both Paypal & Google Checkout as payment methods and have a 14 day refund policy. As well as allowing VPN and Adult content, IRC is also allowed but only on request. Legal content only.
Network Information
Their KVM nodes are online at the RapidSwitch datacenter in Maidenhead, UK. They are a RIPE NCC member and thus their IP space is fully owned by themselves. From this simple search, they appear to have a lot of it. They have a 100% SLA with their upstream provider.
Test IPv4: 149.255.96.39
Test IPv6: 2a03:ca80:8000::1
Test File: http://149.255.96.39/test50mb.bin