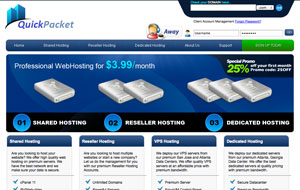 Jeff, from QuickPacket, recently contacted us to get this dedicated server offer featured. QuickPacket have been featured on LowEndBox a few times before and are active on LowEndTalk.
Intel Dual Xeon L5420
Dual Xeon L5420
16GB RAM
1TB Hard Drive
10TB Bandwidth
100Mbps Port
5 IPv4 Addresses on Private VLAN
Dedicated KVM over IP / IPMI (uses 1 IP address)
Coupon: LEBXEON
$49/Month | Order
QuickPacket was founded in 2003 and offers dedicated servers, co-location, virtual private servers, Idera/R1Soft data backup and shared/reseller virtual hosting from Atlanta, GA and Las Vegas, NV. We have featured them as a vps provider several times before. Servers are billed pro-rata and can be customised whilst ordering. For example, you can upgrade to 20 TB / 1 Gbps port for $10 more. Reviews on their last LEB post are mixed. I found this review from February on LET.

QuickPacket accept payments by VISA, Mastercard, American Express, Discover, Google Checkout, and PayPal. Servers are typically setup within one business day. The servers are already racked and ready, but depending on order volume it may take longer. They do not allow Spam/Bulk Mail, Warez, IRC, and TOR. For more information, their Terms of Service / Acceptable Use Policy is located here.
Network Information:
QuickPacket operates their own network on AS46261. Their network providers include nLayer, Inteliquent (Tinet), and Cogent. Servers will be located at the 55 Marietta datacenter in Atlanta, GA.
Test IPv4: 199.101.96.2