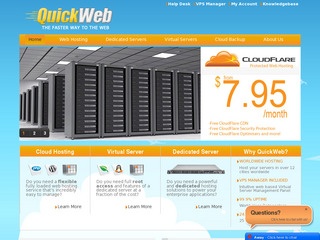 After six months away: Roel, from QuickWeb, has sent in this special offer for LowEndBox readers. If this plan runs out, we are told that they will try to restock this plan on a regular basis.
QW Lowendbox VZ
1 CPU Core
200MB RAM
256MB vSwap/Burst RAM
6GB RAID10 Diskspace
250GB Bandwidth
100Mbps Port Speed
OpenVZ/SolusVM
1 IPv4 Address
1 IPv6 Address (available in Phoenix)
$15/Year or $1.99/Month
Order: Phoenix | Los Angeles | Jacksonville
Neodelphi Limited DBA QuickWeb Hosting Solution have been in business since 2008 and are a fully registered company in New Zealand. They are one of the few remaining original lowendbox providers. QuickWeb have been featured A LOT of times since we first listed them in October 2009. During their time within the community, they have won the top providers poll once and came second twice. Reviews on their last offer were really mixed, if there are any QuickWeb customers on here – please share your experience.

QuickWeb inform us that they accept payments via Paypal, 2Checkout and Moneybrookers. These servers will be provisioned instantly unless you'd like to pay via Bitcoin. Bitcoin is accepted on a case by case basis (contact them for details) and is manually set up. They also accept electronic bank deposit for New Zealand based customers. You can view their Terms of Service for more information.
Network Information:
Phoenix, Arizona
Test IPv4: 199.195.141.17
Test File: http://199.195.141.17/100mb.bin
Los Angeles, California
Test IPv4: 199.195.142.199
Test File: http://199.195.142.199/100mb.bin
Jacksonville, Florida
Test IPv4: 199.83.100.120
Test File: http://199.83.100.120/100mb.bin