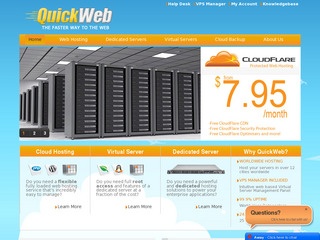 This is another post where a provider did not send us a ticket. As I was given a chance to feature a host of my choice, I thought it would be great to feature a host that was very popular in the days of LowEndAdmin. I checked the page of QuickWeb dedicated for lowend offers and found that the plans there are still available. Their last offer seems to be available too. Here are some offers that fits the accepted price range in LEB.
QW Lowendbox VZ

1 CPU Core
200MB RAM
256MB vSwap/Burst RAM
6GB RAID10 Diskspace
250GB Bandwidth
100Mbps Port Speed
OpenVZ/SolusVM
1 IPv4 Address
1 IPv6 Address (available in Phoenix)
$15/Year or $1.99/Month
Order: Los Angeles | Phoenix

Budget XEN VPS I

1 CPU Core
128MB RAM
5GB RAID10 Diskspace
300GB Bandwidth
10Mbps Port Speed
Xen/SolusVM
1 IPv4 Address
$35.88/Year or $3.99/Month
Order: Los Angeles | Phoenix
Note that you can see more lowend plans from them using this page. IPv6 is available in their Phoenix location.
For the old community members of LowEndBox, QuickWeb needs no introduction. They were first featured here way back in 2009. They have been voted in the top 3 providers numerous times before. Their last offer was in 2013. Feedback are generally positive when they were still active in the community. One would say that the plans seems outdated in today's standard, but they have been providing service for so many years now. So it is fair to say that they are here to stay. Hopefully, they will consider sending us offers once again in the near future,
Their checkout page seems to indicate that they are only able to accept Paypal and 2CO. Host node and network information are not available since we did not communicate with them for this offer. Kindly review their Terms of Service page before making any purchase.
Latest posts by Jonathan Tan
(see all)