Hello again! Welcome to Part II of our Low End Box Review of well known Low End provider GTHost. GTHost recently asked Low End Box for a review, and we are happy to oblige. As previously reported in Part I, we successfully installed multiple servers in multiple locations with great results! This Part II of our review provides
more information on our second test server,
buying multiple servers simultaneously,
overall impressions, and
a special offer from GTHost for our Low End Box readers.
More On Our Second Test Server
In Part I we promised more details on the purchase of our second test server. We noted that the price of this server was $1 below the $125 maximum dedicated server maximum price allowed on Low End Talk.
Here is the price listing on GTHost.com as we saw it when the second test server was purchased.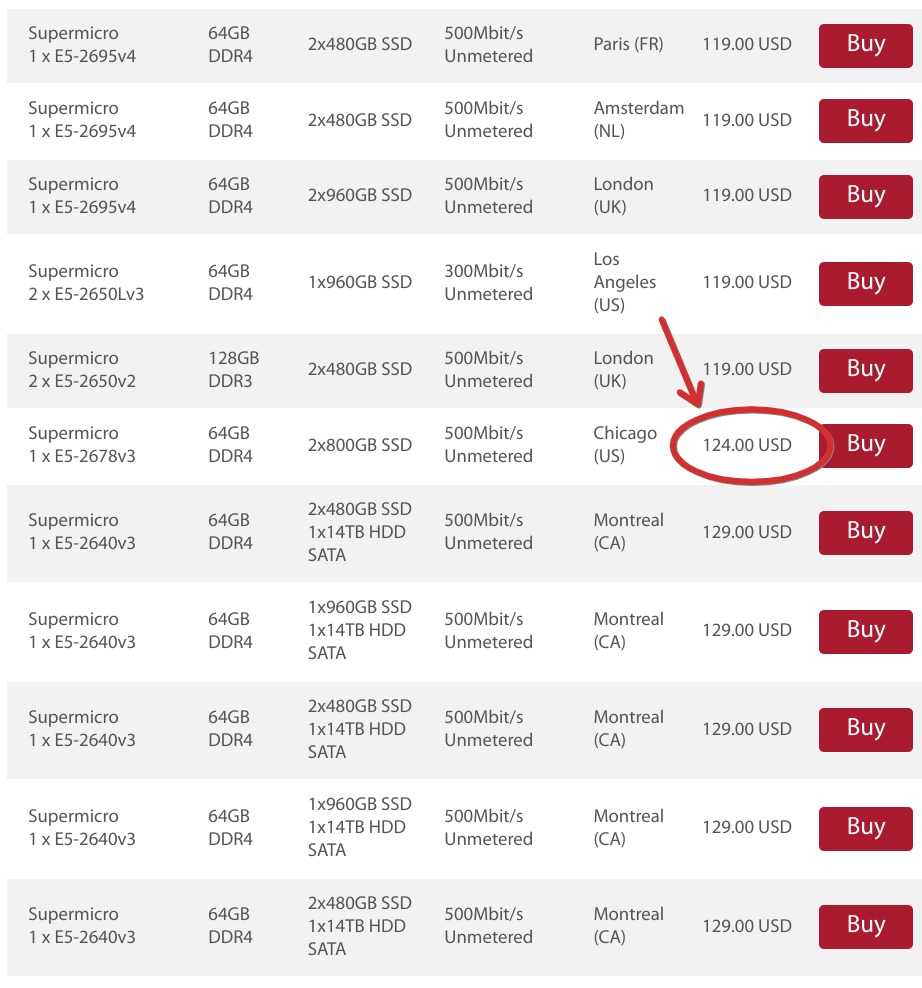 We bought the server at $124 and added two additional IP addresses at $2.00 per month each:
Here's the server as it appeared in the GTHost Control Panel after installation:
Buying Multiple Servers Simultaneously
One of the great features of the GTHost Control Panel is that we can buy and install multiple servers simultaneously. This works even with different operating systems being installed simultaneously on different servers. Here is an example using two servers, one with Rocky Linux and one with Debian. We select and configure the servers, and then both are installed simultaneously. The install time for Rocky was 14 minutes, and the install time for Debian was 12 minutes.
E5-2650 v2
64 GB DDR3
1 x 800 GB SSD
300 Mbit/sec Unmetered
Dallas
$84
Click Buy
Server OS Rocky Linux 8.6 — Click Add to cart & continue Shopping
E5-2695 v3
64 GB DDR4
2 x 480 GB SSD
500 Mbit/sec Unmetered
Paris
$99
Click Buy
Server OS Debian 11.4 Bullseye — Click Add to cart & buy
Here is the GTHost Control Panel showing both simultaneously purchsed servers.
Overall Impressions
Big advantages of GTHost include their many locations throughout the United States, Europe, and Great Britain. Another big advantage demonstrated by our testing is the versatility and comprehensiveness of GTHost's Control Panel. As we saw, customers quickly can get complete hardware, network speed, and location information together with pricing. GTHost is maintaining its Control Panel, so new operating systems like Rocky and current versions like Jammy are available. GTHost can do fast installs on multiple servers simultaneously!
Special Offer
Our cheap, special offer for this Review is available on GTHost's Current Sales and Promotions page. That's how our first test server configuration initially was suggested.
GTHost also has provided a promo code for 30% OFF for the 1st month on any GTHost server, valid till 30 Sep 2022. Promo Code: LET22-30
---
---