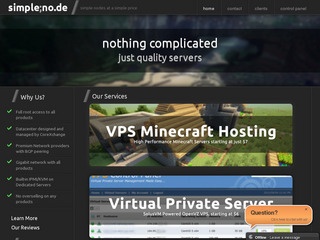 Edward, from SimpleNode, has emailed in another exclusive offer for both LowEndTalk and LowEndBox users on the KVM platform.
256MB KVM Special
256MB RAM
1 CPU Core
15GB Raid 10 Diskspace
500GB Bandwidth
1 IPv4 Address
KVM/SolusVM
$4/Month or $11/Quarter
Location: Dallas, Texas
SimpleNode have been featured twice before on LowEndBox and they seem to receive good feedback. Even though it's 2013 America, Simpleno.de do not have IPv6 yet, but we're told that their provider Incero is to be blamed for this. Their nodes are running the E3-1230v2 CPU and have 8x 500GB WD RE4 drives in Hardware RAID10 w/BBU. As you can tell by their reviews page, SimpleNode is primarily a Minecraft game hosting company who expanded to VPS hosting in August 2012. IF you're or have been a customer of theirs, be sure to leave a short review below.

Additional IPs can be purchased for $1.50/Month. IRC is allowed but only for legitimate uses. VPNs are also allowed but only for private use. Tor exit nodes and Adult content is strictly forbidden. Torrents are fine, however they will limit your disk I/O if you're abusing it. They accept payments via PayPal and do offer refunds but only at their discretion (they reserve the right to refuse any refund request). For more information, take a look at their Terms of Service.
Network Information:
Servers are with Incero at the CoreXchange datacenter in Dallas, Texas.
Looking Glass: http://lg.simpleno.de/
Test IPv4: 23.29.127.98
Test File: http://lg.simpleno.de/100MB.test