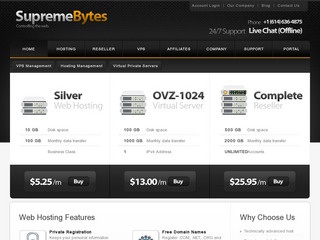 Following the success of their last offer: Damien, from SupremeBytes, has decided to create this package for LowEndBox users. This plan is exclusive to LowEndBox and won't be found on their public website.
LEB-1024
1024MB Dedicated Ram
2048MB Burstable Ram
2 CPU Cores
50GB Diskspace
1 TB Bandwidth
OpenVZ/SolusVM
1 IPv4 Address
$6.50/Monthly
SupremeBytes have been featured once before and that was in October 2012 when they were promoting a $4/Month 256MB OpenVZ in France. Since then, SupremeBytes have expanded to New Jersey and featured on one of our community roundups. We are told that the old lowendbox promotion is still active and their standard OVZ-512 and OVZ-256 plans, which are under $7 monthly, are in stock. Damien informs us that they're now 'Better Business Bureau Accredited' – congratulations! As usual please leave your reviews in the comments.

SupremeBytes, LLC were founded in September 2012 in Columbus, Ohio. They now accept payments via PayPal and Google Checkout (they no longer offer 2checkout). 32 and 64 bit versions of Ubuntu 12.04, Centos5/6, Arch Linux, Suse 12.1, Debian and Fedora are all available. If you need anymore information, perhaps read their Terms of Service.
Network Information:
Servers are located in New Jersey, USA-East at the InterServer datacenter.
Test IPv4: 68.168.213.35
Test File: http://vpstest-nj.supremebytes.com/bigtest.tgz