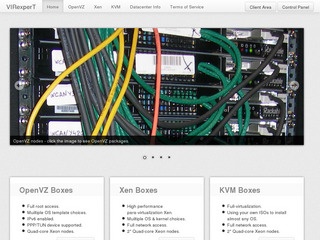 Landon from VirExpert has an exclusive 10% off promotion running for LowEndBox readers in Los Angeles.
Starter Box

1 CPU Core
256MB RAM
512MB Burst
15GB HDD Space
1500GB Bandwidth
SolusVM/OpenVZ
Promo code: LEB
$3.5/Month – Order Link
Location: Los Angeles

Standard Box

2 CPU Core
512MB RAM
1024MB Burst
20GB HDD Space
2000GB Bandwidth
SolusVM/OpenVZ
Promo code: LEB
$5.95/month  – Order Link
Location: Los Angeles
VirExperT were founded in August of this year and are currently in the process of registering the company. According to their "About Us" page, VirExpert is "A newly founded company with 3 founders and 2 employees" and "Your satisfaction is our main concern, we'll try our best to help you with your business.". They're also currently developing their own panel but in the meantime, clients will use SolusVM to manage their servers. Xen and KVM based VPS will be offered soon. They seem to be connected to LibVZ who were self-listed on LowEndTalk in July.

At present, their only accepted payment method is paypal. They have a 24 hours full refund policy. Be sure to read their full Terms of Service before purchasing. You can view their other plans by clicking here.
Network Info:
Servers are with Corporate Colocation in Los Angeles, California. More information can be found here.
AS Number: AS13442
Test IPv4: 199.245.56.2
Test File: http://199.245.56.2/100mb.test