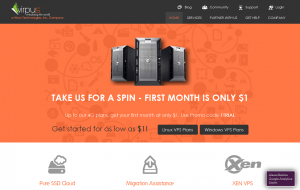 Kenneth, from Virpus, is back with an exclusive XenPV VPS offer located in Seattle, USA. This is in line with the launch of their new SSD-Cache VPS plans that provides excellent value and performance. The promo code LEB-2015-1 gives a 15% recurring discount. On top of that, they will include DirectAdmin free of charge! For those interested, I encourage you to hurry before this offer expires.
512MB XenPV

512MB RAM
1024MB Swap
2 CPU cores
25GB SSD-Cached RAID 10 Disk
1.5TB transfer
1Gbps uplink
1x IPv4
XenPV/SolusVM
Coupon: LEB-2015-1
$21.25/year

1024MB XenPV

1024MB RAM
2048MB Swap
4 CPU cores
50GB SSD-Cached RAID 10 Disk
3TB transfer
1Gbps uplink
1x IPv4
XenPV/SolusVM
Coupon: LEB-2015-1
$4.25/month
Virpus.com is a Wow Technologies, Inc. company founded in 2006. Their parent company was founded in 2001 and houses such customers as Microsoft, Vulcan, Moz, Rosetta Stone, Intelius and more in 18,000 sq. ft. data center in Seattle WA along with 8 other global locations. They have been featured here multiple times before with their first offer dating way back in 2010. I could say that they are a very established company and will probably stay for a very long time in the hosting business.
Exact host node information is not available. The only thing we know is that they are using Xeon processors and that the disk is SSD-Cached in RAID10 configuration. The prices they sent us for this is cheaper that their last couple of offers. However, past reviews were not very positive. It would greatly help our readers if current customers will share their feedback below in the comments section. We would love to hear if their serviced improved with the recent acquisition by Wow Technologies.
Accepted payment method includes PayPal, Credit Card, Bitcoins, and Mail In Payments. Interworx, DirectAdmin and cPanel are available if you custome needs a control panel. Virpus offers a 99.9% uptime SLA and instant activation. As always, we encourage you read their Terms of Service carefully before making any purchase. This page contains the contract/legalities should you engage business with them.
Network information
Wow Technologies Inc. – Seattle, Washington, USA
Test IPv4: 208.89.211.54
Test file: http://sea.virpus.com/100mb.test
Latest posts by Jonathan Tan
(see all)