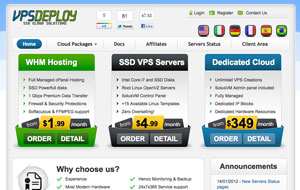 The folks at VPSDeploy have sent us their latest offering on their SSD based plans. Starting at $6.99/m, customers will get:
VPSDeploy Offer
1 vCore @ 2.67 Ghz
1 GB RAM
256 MB vSwap
10 GB SSD
100 Mbps switchport
500 GB BW/month
Based in OVH. Test IP of 46.105.118.55 most likely.
I'm curious what kind of RAID they're using in this. They mention having automated backups being pulled to a server in Germany, but given OVH only has boxes with dual 120GB drives, they're going to have to fill the drives pretty good, past the usual 80% limit of SSD's. I've not seen any reports to date of data loss on their nodes, but they've always offered only 5GB.