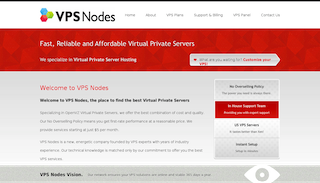 Ken, from VPSNodes, has got a 2GB OpenVZ offer for LowEndBox readers located in Dallas, Texas. You will need to use the Coupon Code 2GBDEAL to get the plan at $7 recurring.
OpenVZ 2048MB RAM
2048MB RAM
2048MB vSwap
4 CPU Cores (Equal Share)
100GB SSD-Cached Diskspace
3000GB Bandwidth
100Mbps Shared Port
1 IPv4 Address
OpenVZ/SolusVM
Coupon: 2GBDEAL
$7.00/ Month | Order Link
This is the first time we have listed VPSNodes – so welcome! VPSNodes domain has been registered since 2009.Nodes are configured with the E3-1240v2 CPU, 32 GB memory, 4×1 TB WD RE4 SATA, LSI 9260-4i with BBU and a 120 GB SSD for SSD-cached enabled transfers. Ken tells us that they automatically backup their whole nodes. Currently there is no expiration date set for this offer. If you purchase one of these, do leave us a review below.

VPSNodes accept payment via Paypal. They offer a 48 hour money back guarantee. You will need to contact support if you wish to obtain a refund. Servers are provisioned instantly. Additional IPv4 addresses are charged at $1 each per month. For more information, take a look at their Terms of Service.
Network Information:
Servers are with ColoCrossing in Dallas, Texas.
Test IPv4: 192.3.156.4
Test File: http://192.3.156.4/test100.zip