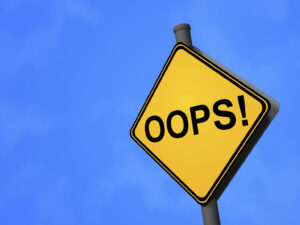 Choosing a domain name should be pretty easy.  For most companies you simply add a ".com" to your company name and you're good to go.  That is, unless mashing the letters in your name together makes a new word or phrase, which may result in something you didn't intend.
In fact, you might end up with something unintentionally hilarious (or worse).
For example, Who Represents is a company that provides information about celebrity agents, managers, etc.  So naturally whorepresents.com is their domain.  But that domain could also serve as a place to order gifts for prostitutes – WhorePresents.com.  It's not surprising that Who Represents tries to make their purpose clear visually:
Then again, the notoriety probably helps their traffic.  I'm pretty sure that's the case for Pen Island, "the best place to get custom made pens".  Naturally, you can find them at penisland.net.  You can parse the other meaning for yourself.
Sometimes these mistakes it's kind of subtle.   If I was looking to buy or sell scrap metal, visiting AmericanScrapMetal.com would make sense, even though I might be searching for AmericansCrapMetal.com.  To my knowledge, while there is "pot metal," there is no "crap metal" in the industry.
I don't know who Emma is but she has a whole society devoted to her nether orifice at analemma.org.  An "analemma" is an astronomical diagram.
You'd think that people who work in the psychology field would be very sensitive to triggering patients, but you have to wonder if someone visiting TherapistFinder.com isn't concerned they might be visiting TheRapistFinder.com.
Sometimes you have to wonder…when the Mole Station Native Plant Nursery decided on molestationnursery.com, didn't someone say it out loud?
There are domain hacks as well.  I'm skeptical that swissbit.ch understood its mistake since they're presumably German, Italian, or French speakers over there in the Alps.  And I'm willing to let Power Generation Italia – who chose powergenitalia.com as their domain – slide because the goof would never have occurred to an Italian.  But they speak English on the Cook Islands so the folks at budget.co.ck have no excuse.
So be careful when picking your domain names!  Perhaps you should start here.
Latest posts by raindog308
(see all)