Until recently, Zoom limited meetings to 40 minutes, but you could disconnect and then reconnect instantly.
It was almost a routine.  "Hey, we're almost at 40 minutes, let's drop and rejoin."  "40 is almost up, let's rejoin."  "Do you wanna drop now or in a few minute – is this a good stopping point for rejoining?"
No more.
Earlier this year, Zoom silently started rolling out a 10-minute wait before free-plan meetings could be restarted.  So you can still talk in as many 40-minute increments as you want, but instead of just rolling from one to the other back-to-back, now you have to wait 10 minutes to rejoin.
People started to pop up in Zoom's support forums back in January:
"Constantly innovating…"
Not sure there's much "innovation" here.  More like dropping the hammer.
Zoom actually has been around since 2011 but it emerged into the public consciousness and vernacular during the pandemic.  Suddenly, everyone needed video conferencing and Zoom was there because they had a free plan.
No doubt the sudden broad exposure benefitted Zoom enormously, so it was in their interest to have a generous free plan.  But now?  It's unlikely they'll ever be able to outdo that free marketing push so it's time to swtich to profit mode.
Who needs these freeloaders now?
Coming Soon to Your Account
This change was not announced or rolled out.  This is not mentioned on their plans page: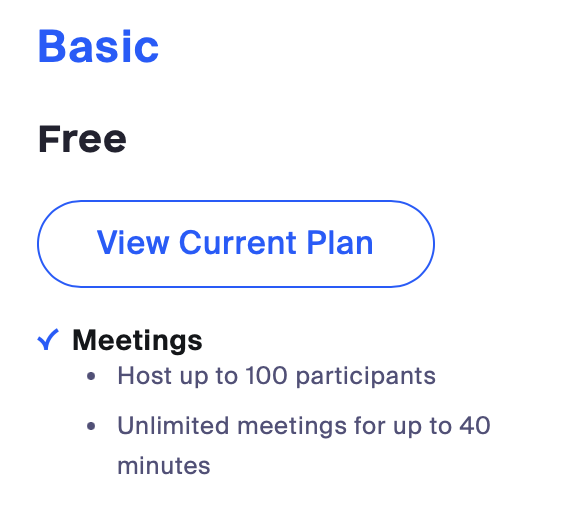 Some users first noticed this in January.  Some in April.  And now a new batch in July.
Although Zoom has posted responses in forums when questions are raised, they've made no announcement.
It seems random which accounts are affected, but presumably it'll come to your account as well.
Latest posts by raindog308
(see all)