It looks like the eternal sword-fighting contest that is the Zuck vs. Musk beef continues…
Rumors have been spreading around for a minute now about Meta (formerly Facebook) working on a Twitter-lookalike.
We found out recently the Twitter-lookalike was in fact a very real thing with Threads being officially released and setting records with over 100 million downloads in under a week. 
Musk knew it was coming, though, and hasn't been afraid to let Zuck know he doesn't approve of it.
Back in late June, 2023, Elon even mentioned a cage fighting match with Zuckerberg under a post about Threads:
I'm up for a cage match if he is lol

— Elon Musk (@elonmusk) June 21, 2023
Zuck was up for whatever, too…
That seems to be the real spark of this beef that turned it into a raging flame.
Unfortunately, It Seems Like That Cage Match Is More Figurative Than Literal
For a minute, it seemed like an MMA match between Elon Musk and Mark Zuckerberg was an actual possibility with Dana White, founder of UFC, even getting involved.
For the time being, no one has technically canceled this but I mean let's be honest… is this even a possibility?
Elon Musk is a 52-year-old guy that probably hasn't worked out in 10 years and has about 70 lbs on Mark Zuckerberg.
If it ever happens for whatever reason, though,  I have $100 on Zuckerberg due to the age gap.
Musk could never out-stamina someone that's absolutely not a lizard person.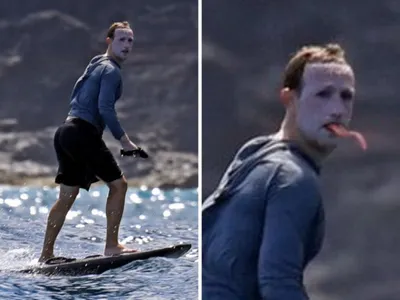 Zuck, while a bit curious and frail looking… is definitely athletic:
I'm semi-joking, but… as more time passed you could tell Elon was seriously upset about his questionable investment in Twitter that's done nothing but go down since its purchase. It was more than just a joke.
Per CNN Business:
A Fidelity fund has slashed its estimate of Twitter's value amid ongoing chaos at the company, implying the social media platform may be worth only a third of its value compared to when Elon Musk acquired it in October.

According to a monthly disclosure, Fidelity's Blue Chip Growth Fund reported that its stake in Twitter was worth $6.55 million at the end of April.

That's down from the $19.66 million the Fidelity fund said its stake was worth in October as Musk was finalizing the acquisition. The revision implies Twitter may be worth only $15 billion overall, as opposed to Musk's $44 billion purchase price.
(See also our article from last month: How to Precisely Calculate What Twitter is Actually Worth Now. Hint: It'll Surprise You)
That's definitely not what Elon Musk wants to see happening.
Here you have Mark Zuckerberg allegedly (more on that in a second) hiring employees that left after Elon purchased Twitter, and now Zuckerberg is building an almost identical site… plus he has all of the eyeballs in the world already to advertise it between his other numerous active sites.
It's a very real threat to Elon Musk, and he knows it.
Threads Officially Came out a Week Ago
At the time of posting this, Threads came out right about a week ago on July 5th, 2023.
By the way, Zuck isn't innocent in terms of fueling the fire in this beef…
He posted this on Twitter (his first post in over 10 years) when they launched Threads:
— Mark Zuckerberg (@finkd) July 6, 2023
It's pretty clever and a great advertising stunt, not gonna' lie. It got people talking, as he wanted.
According to Quiver Quantitative (which uses data from Instagram) right now there are over 101 million users:
That's not a bad start at all.
All you need to create an account and get started is your existing Instagram account, and after you log in… the UI/UX (microblogging) is extremely similar to Twitter:
Meta described Threads as "a new, separate space for real-time updates and public conversations."
Elon Musk on the other hand described Threads as:
Threads is just Instagram minus pics, which makes no sense, given that thirst pics are the main reason people use that app. How many times have you read comments on Insta pics & wished there were more? Personally, never.
It seems more to me like it's more Twitter for people politically on the left side… or anyone that Musk doesn't like, for example, the guy who tracks Elon Musks jet moved over to Threads.
Ever since Musk's acquisition of Twitter and promises of freedom of speech, there's been an increasing right-sided audience on Twitter. Specifically, a more radicalized right-sided audience.
But that's neither here nor there, a market exists when a market exists and Zuckerberg wants his share.
Breaking News: Microblogging Isn't a New Concept
It's been done before by plenty of other companies, Truth Social, a heavily Trump-backed and almost entirely right-sided "alt-tech" microblogging platform is almost identical to either of them.
Plus, there's privacy-friendly Mastodon (which are also not happy about Threads, we posted an article about it right here)…
Both of those microblogging projects are fairly large. It's safe to say it's not like there weren't already Twitter competitors.
Microblogging is far from new, and in 2023 attention spans are so short with other platforms like TikTok with its short-form content competing for attention spans…
Oftentimes microblogging and short-form content makes more sense in 2023 than traditional long-form content like this.
It didn't matter to Elon Musk, though…because he had Twitter send a lawsuit threat to Meta:
The main points of contention being:
Allegations of trade secrets from past Twitter employees, now employed at Meta.
"Twitter intends to enforce its intellectual property rights"
Call me crazy, but that certainly sounds like lawsuit words to me. That's a classic 'stop what you're doing before we sue you' letter right there.
Meta Doesn't Seem Afraid
Andy Stone, a Meta employee stated on Threads that no one working on Threads was/is a former Twitter employee.
Outside of that Meta hasn't made much comment on it, but as we could expect…
I doubt Threads is going anywhere. Anyone can sue anyone for anything… they both have the money to drag this case out for at least 5-years and it'd probably be in the same place as when it started.
Realistically I don't think Elon Musk or Twitter can say they own microblogging. That just doesn't make sense.
On the other hand… it's hard to believe none of the past Twitter employees worked on Threads in some capacity.
There was a mass exodus of Twitter employees so it's not like it's far-fetched to believe they went to a competitor, especially depending on how their employment contracts looked (not sure on non-compete, etc)…
We'll see how all this beef boils over, though… I don't think the Zuck vs Musk beef is over just yet.
Personally, I'd rather see them in a cage, not a courtroom. The winner takes all.
P.S. In regards to the rumors about Zuck being a cuck, I reached out to Mark Zuckerberg's wife, Priscilla Chan via Messages for comment…
Unfortunately, I didn't hear back, so I can neither confirm nor deny Musk's cuckold allegations.