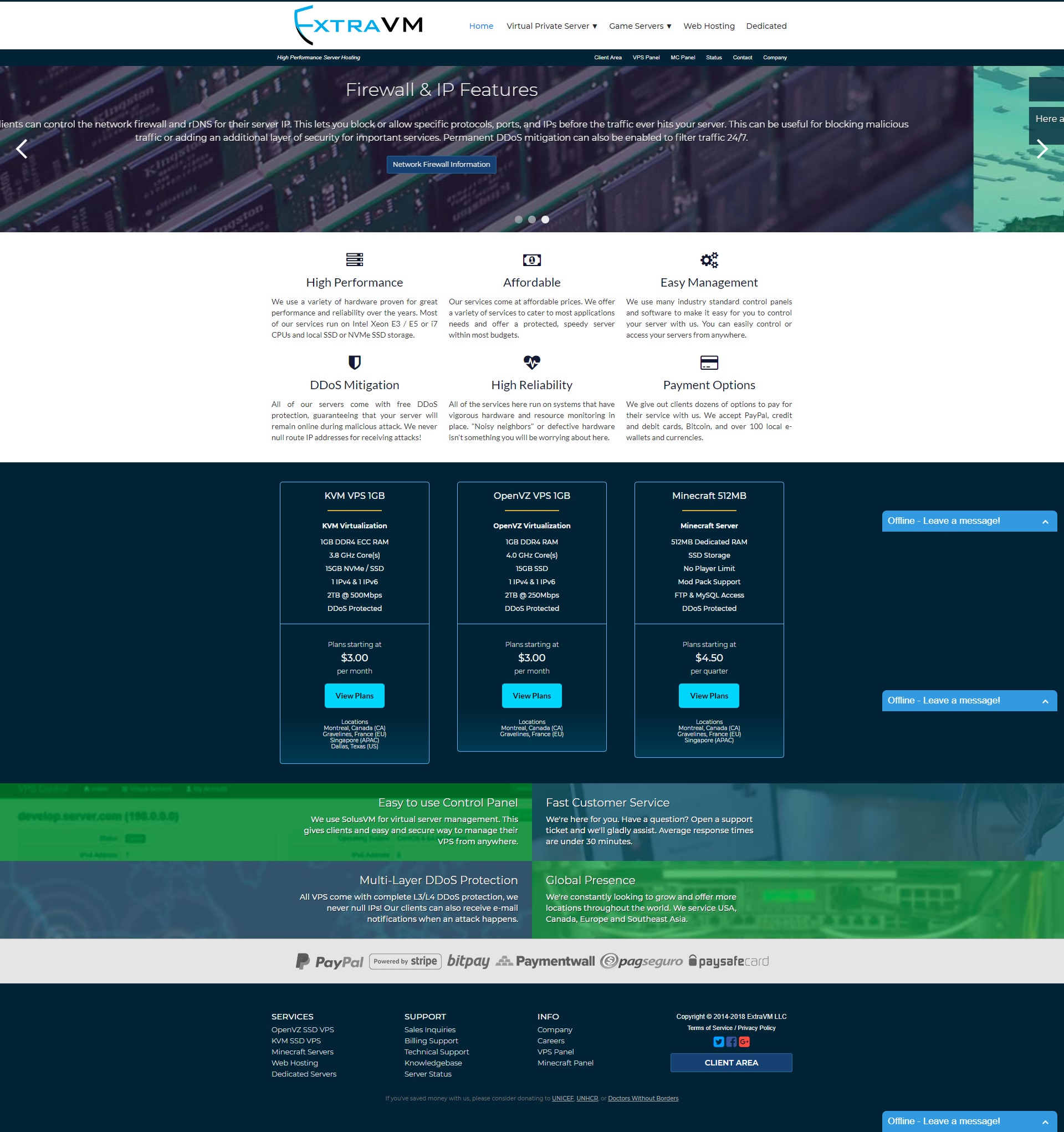 Mike has sent in their very first official LowEndBox offer from ExtraVM! They have been around nearly 4 years now and are a registered entity based out of Dallas, TX (802515270) offering services today in Canada, France and Singapore! We look forward to our readers feedback on this new provider to us here at LEB and would like to also note that Mike is an active member of our community over at LET as well (MikeA)!
In their own words:
ExtraVM was started in 2014, originally providing game servers, but quickly expanding to VPS with uptime and affordability in mind. At the time ExtraVM started, DDoS attacks were more of a constant problem with not too many cheaper and stable solutions. All of our services are DDoS protected, and we give clients tools to manage protection. Besides that, we try to open our services up to individuals anywhere in the world. We accept numerous different payment methods and dozens of local e-wallets and currencies in Asia, the middle east, and Europe via one of our payment partners. No beating around the bush here, just search online for reviews, we even pay out affiliates in the same hour!
They offer PayPal, Stripe, BitPay, PaymentWall (50+ regional gateways, bank transfers, etc) as payment methods. Please see the ToS for further information before ordering.
Offer:
KVM VPS, NVMe SSD

512MB RAM
1x vCPU
7GB NVMe SSD
1TB Transfer
500Mbps Uplink
1x IPv4, IPv6
KVM/SolusVM
Coupon: LEBTRY (30% off first month)
$3.00/month OR $32.76/yr
Order here (Canada, France)

KVM VPS

1GB RAM
1x vCPU
14GB NVMe SSD
200GB Transfer
250Mbps Uplink
1x IPv4, IPv6
KVM/SolusVM
Coupon: LEBTRYSGP (15% off recurring)
$7.65/mo
Order here (Singapore)
—————–
Node specifications
Canada / France KVM Spec:
– E3-1270v6
– 64GB DDR4 ECC
– 2x 1.2TB NVMe SSD (SW RAID-1)
– 1Gbps
Singapore KVM Spec:
– i7-6700K
– 32GB DDR4
– 2x 480GB DC SSD (SW RAID-1)
– 1Gbps

Locations & Test Information
OVH Beauharnois
Test IPv4: 192.99.75.195
Test IPv6: 2607:5300:203:10b4::e86c:2f1e
Test file: https://bhs.lg.extravm.com/100MB.test
Looking glass: https://bhs.lg.extravm.com

OVH – Gravelines, France
Test IPv4: 178.33.9.17
Test IPv6: 2001:41d0:303:4845::d696:e1a8
Test file: https://gra.lg.extravm.com/100MB.test
Looking glass: https://gra.lg.extravm.com

OVH – Singapore
Test IPv4: 139.99.7.19
Test IPv6: 2402:1f00:8000:393::f1c5:4e8d
Test file: https://sgp.lg.extravm.com/100MB.test
Looking glass: https://sgp.lg.extravm.com