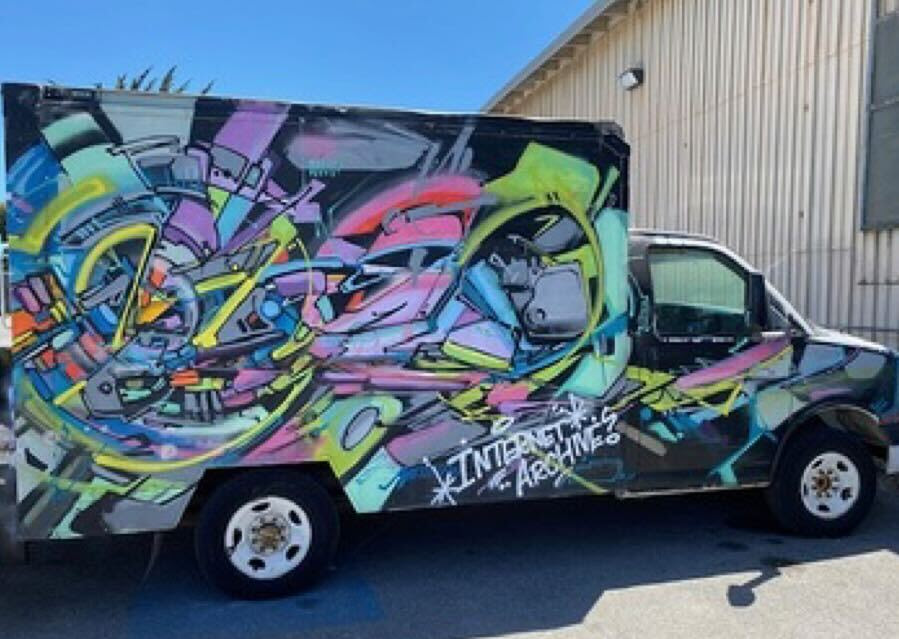 If you're tooling around Richmond, California and see this vehicle on the road, please call the police immediately.  It's the Internet Archive's truck!
Sadly, on Christmas Eve this truck (which appears to be a U-Haul disposal that was bought and painted by IA) was stolen.  On LowEndTalk, @DataIdeas-Josh shared their email on the matter:
On Christmas Eve, the Internet Archive's library truck (pictured below) was stolen from our warehouse in Richmond, California. The truck is essential to our operations, allowing us to transport physical donations of books and media to be digitized so we can add them to our collections.
We're saddened that this theft happened over a holiday weekend, taking advantage of a day when staff were enjoying time at home with their loved ones.
While police are investigating the theft, we know that there's a good chance the truck will not be recovered. Replacing the vehicle will cost us approximately $30,000, an unexpected cost to be hit with at the end of the year. That's why we're reaching out to you, our loyal supporters, to help us replace our truck.
Please pitch in & help us replace our missing library truck so we can continue providing Universal Access to All Knowledge. A donation of any amount will help us get a little closer to our goal—please chip in today.
https://archive.org/donate/?origin=email-20221229stlntrck
I'd guess this vehicle was taken somewhere and swiftly stripped of anything useful.  Given the age of the vehicle, my suspicion is that it's more likely meth heads who want to cut out scrap metal than a sophisticate chop shop.  Whatever the case, it sucks – best wishes to archive.org!
Latest posts by raindog308
(see all)