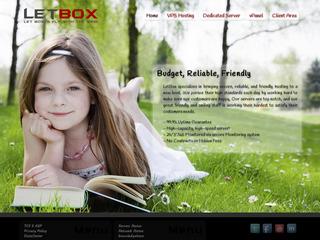 So Mohamed, from LetBox, recently got in touch with the below offer which is pretty much the same offer we listed in December – so I was in two minds over posting this. However, unlike their last offer, this has monthly billing and certainly seems unbeatable in terms of specifications vs price at the moment.
OpenVZ – 2048MB (Monthly)
2048MB RAM
50GB Diskspace
4 CPU Cores
4000GB Bandwidth
100Mbps Port Speed
1 IPv4 Address
OpenVZ/vPanel
$5.60/Monthly – Coupon: L5.60
$15/Quarter – Coupon: 15Q
LetBox have been featured twice before on LowEndBox. When we featured them in December, some people seemed to love their service whilst others hated theirs – have a read of their comments on that post and make your own mind up. Their servers are using the Jaketown E5 Hex-Core processor, 32 GB or 64 GB ECC Memory, multiple Seagate Constellation drives in RAID10 with a Samsung 256GB 840 Pro Cache SSD. Once you have used all your bandwidth, your vps will be capped to unmetered 10Mbit.

They have their own homemade vps control panel called 'vPanel' which does most of the things SolusVM does, if not more. You can read more about it, and see some photos, here. LetBox accept both 2checkout (which accepts Paypal) and Payza. Refunds are not offer but Mohamed assures us that if your vps suffers with downtime, depending on the situation, you may be able to claim some service credit. IRC, VPN/private Proxies and Adult are allowed but Tor isn't. For more information, you may want to view their Terms of Service.
Network Information:
They colocate their servers with coreXchange in Dallas, Texas.
Test IPv4: 198.154.114.2
Test File: http://dallas.letbox.com/10mb.test
Test File: http://dallas.letbox.com/100mb.test