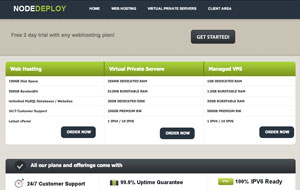 Phil, from Node Deploy, sent in two OpenVZ offers running in Germany & Phoenix and another KVM offer in Los Angeles.
OPENVZ (Germany/Phoenix)
OpenVZ VPS

4 Cores
2048MB RAM
60GB Diskspace
750GB Bandwidth
OpenVZ/SolusVM
1 IPV4
10 IPV6
$6.95/Month – Coupon: SSAVINGSVZ2GB
Order: Germany
This is NodeDeploy's third offer on LowEndBox. On their previous offer, a lot doubted they would survive this long, but they have managed to despite repeated DDoS attacks. They're also active in our community, having posted a fair few amount of posts and offers. Servers are monitored 24 hours a day, 7 days a week and they offer a 99.9% Uptime guarantee. Click more to view two other offers.
KVM (LA)

3 Cores
1024MB Ram
10GB SAS Storage
500GB Bandwidth
1 IPv4
KVM/SolusVM
Windows + Linux
$5/Month – Coupon: SSAVINGSKVM
Order: Los Angeles

UK

2048MB Ram
20GB SAS Storage
1TB Bandwidth
1 IPv4
10 IPv6
100Mbit port
OpenVZ/SolusVM
$6.95/Month
Order: Maidenhead
NodeDeploy do not allow Public Proxies / VPN's, Torrents, Warez or Warez Linking, you can see their full Terms of Service by clicking here. As well as VPS services, NodeDeploy offer WebHosting and will soon provide managed VPS services. You can also view their Status Page which gives you a clear indication of the reliability of their servers.
Network Information:
Münster, Germany:
Test IPv4: 212.83.63.22
Test File: http://helios.nodedeploy.com/100mb.test
Phoenix, Arizona:
Test IPv4: 66.85.132.106
Test File: http://hyperion.nodedeploy.com/100mb.test
Los Angeles, California:
Test IPv4: 142.4.49.106
Test File: http://ophion.nodedeploy.com/100mb.test
Maidenhead, UK:
Test IPv4: 82.145.53.3
Test File: http://hermes.nodedeploy.com/100mb.test