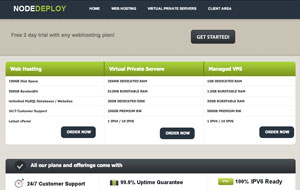 Phil, from Node Deploy, is back with another four offers located in Germany, Maidenhead, Phoenix and Los Angeles.
KVM DE

4 Cores
1024MB RAM
50GB Diskspace
350GB Outbound Bandwidth
Unmetered Inbound Bandwidth
1 IPv4 Address
KVM/SolusVM
$6.95/Month

UK

2048MB Ram
20GB SAS DiskSpace
1TB Bandwidth
100Mbit Port
1 IPv4
10 IPv6
OpenVZ/SolusVM
$6.95/Month
NodeDeploy have now been listed four times since June 2012, with their last coming in November. On that post, they received a mix response with some people loving their experience whilst some others didn't. As usual, have a read for yourself and make your own mind up. I encourage anyone who has had a server with them to share their thoughts with us below. It's worth noting that they polled a relatively high 14th in our LowEndBox 2012 Q4 Poll. NodeDeploy have their own stock monitor which you can view here. Click "more" to view the two other offers they sent in.

Phil tells us that their servers are monitored 24 hours a day, 7 days a week and they offer a 99.9% Uptime guarantee. A selection of Addons can be purchased at checkout, such as full server management for $25/month. As highlighted on previous posts, NodeDeploy have an excellent server status page which you can refer to. Public Proxies, VPN, Torrents, Warez or Warez Linking are strictly prohibited from NodeDeploy's network. For further information, you may want to read their Terms of Service.
KVM (LA)

3 Cores
1024MB RAM
10GB SAS Diskspace
500GB Bandwidth
1 IPv4 Address
KVM/SolusVM
$5/Month – Coupon: SSAVINGSKVM

OPENVZ

4 Cores
1024MB RAM
60GB DiskSpace
750GB Bandwidth
1 IPv4 Address
10 IPv6 Address
OpenVZ/SolusVM
$4.25/Month – Coupon: SSAVINGSVZ
Network Information:
Frankfurt, Germany
Test IPv4: 212.83.63.22
Test File: http://helios.nodedeploy.com/100mb.test
Phoenix, Arizona
Test IPv4: 66.85.132.106
Test File: http://hyperion.nodedeploy.com/100mb.test
Los Angeles, California
Test IPv4: 142.4.49.106
Test File: http://ophion.nodedeploy.com/100mb.test