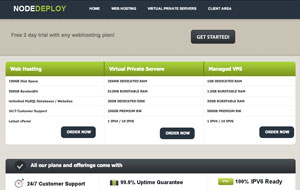 Phil, from Node Deploy, has sent in four different plans (two are listed below) available in a total of five different locations.
OVZ PHX & GER & ATL
OVZ UK

2048MB RAM
20GB SAS Diskspace
1000GB Bandwidth
OpenVZ/SolusVM
100Mbit Port Speed
1 IPv4 Address
10 IPv6 Addresses
$6.95/Month | Order now
NodeDeploy have been featured five times before. We last listed them in January when they were promoting several similar and several different offers. PHX/GER OVZ Nodes are using the E3 1230 V2, 32GB DDR3, 4x 1TB HW RAID 10 and have either a 2Gbit (Ger) or 1Gbit (Phx) port. Their KVM LA Node is running a Dual Opteron 6272 (32 cores), 128GB RAM, 6x 400GB SAS HW RAID 10 and has a 1Gbit port. The KVM Germany node has the Dual E5 2620, 64GB DDR3, 8x 1TB HW RAID 10 and 2Gbit port. Last but not least, OVZ UK servers are running the Dual E5550, 96GB RAM, 4x 600GB SAS RAID 5 and has a 1Gbit port. A quick look shows that reviews on their last post were very good.

NodeDeploy accept payments via Paypal, Google Checkout and 2Checkout. All of their German hardware is owned and operated by NodeDeploy out of globalswitch. Public Proxies, VPN, Torrents, Warez or Warez Linking are not allowed. As usual, we recommend you read their Terms of Service before signing up.
KVM Germany

1024MB RAM
4 CPU Cores
50GB Diskspace
500GB Outbound Bandwidth
Unmetered Inbound Bandwidth
KVM/SolusVM
1 IPv4 Address
$6.95/Month | Order now

KVM Los Angeles

2048MB RAM
3 vCPU Cores
20GB SAS Diskspace
500GB Bandwidth
KVM/SolusVM
1 IPv4 Address
$6.95/Month | Coupon: SSAVINGSKVM
Network Information:
Frankfurt, Germany
Test IPv4: 212.83.63.22
Phoenix, Arizona
Test IPv4: 66.85.132.106
Los Angeles, California
Test IPv4: 142.4.49.106
Maidenhead, UK
Test IPv4: 95.154.225.67
Test File: http://95.154.225.67/100mb.bin