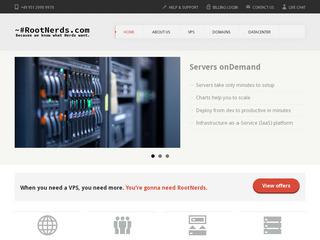 German, from RootNerds, has sent in an exclusive deal for LowEndBox readers.
NerdVPS – DecaVPS
256MB RAM
128MB Burst
2 vCPU
10GB RAID 10 Diskspace
100GB Bandwidth
100Mbit Port Speed
1 IPv4 & 10 IPv6
OpenVZ/SolusVM
€5.50/Month – Order Link
Locations: Frankfurt
RootNerds domain was registered only in September but according to their website, they're a "dedicated team of server admins and technicians who have a couple decades worth of experience combined". On their website, they boldly claim that "we're the experts in our field". 'Nerd' is a funny word, some people find it offensive whilst others are proud of the term – what do you think? RootNerds informs us that the above promotion code is valid until January 15th.

Whilst they only accept payments via PayPal, they said they will try and offer other payment methods as well if you request them. First time customers who are dissatisfied with the service are allowed a refund if they submit a ticket within the first 7 days. They have an account on LowEndTalk but it hasn't been used much. As usual, for further information, be sure to check their Privacy Policy and Terms of Service.
Network Information:
Servers are located with Accelerated IT Services GmbH in Frankfurt, Germany. More information about their datacenter can be found here. They also have a pretty cool Looking Glass which enables you to check out their network.
Test IPv4: 84.200.70.70
Test File: http://84.200.70.70/100MB.test