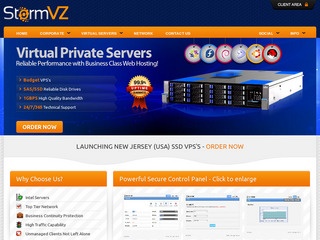 Patrick from StormVZ has a special 25% off promotion running for LowEndBox readers on all plans and payment terms.
VPS #1

CPU: 2 Cores
256MB Guaranteed RAM
512MB vSwap RAM
10GB 15K SAS Disk Space
500GB Bandwidth
SolusVM/OpenVZ
1 IPv4
£2.25/M ($3.62) Direct Signup
Promo Code: LEBLAUNCH
Location: Hampshire, UK

SSD #1

256MB Guaranteed RAM
512MB Burstable
5GB SSD Diskspace
SolusVM/OpenVZ
250GB Bandwidth
1 IPv4
£2.25/M ($3.62) Direct Signup
Promo Code: LEBLAUNCH
Location: New Jersey, USA
StormVZ Ltd are a new vps provider which first emerged on LowEndTalk in September. This is their first listing at LowEndBox and they've started it off with an exclusive offer. Before they officially launched, they gave away a few free vps for people to play with; here is a 'ServerBear' benchmark from one. Their twitter suspiciously boasts some 12,000+ followers and their account has reportedly sent over 14,000 tweets. Don't be fooled, with accounts like Yanira, Yancie and Hassen it seems like someone decided to buy a few followers.
They offer a full 5 day money back guarantee and are a registered business in England & Wales. Do check out their terms and conditions which is located here. If you're looking for a larger plan, take a look at their vps page on their website.

Network Information
UK Servers are hosted at RedStation in Gosport, Hampshire (UK). Further information regarding their network can be found here.
AS Network: http://bgp.he.net/AS35662
Test IPv4: 109.200.26.19
Test File: http://109.200.26.19/1000mb.bin
USA servers are hosted at Choopa in New Jersey, USA.
AS Network: http://bgp.he.net/AS20473
Test IPv4: 108.61.56.190
Test File: http://108.61.56.190/1000mb.bin