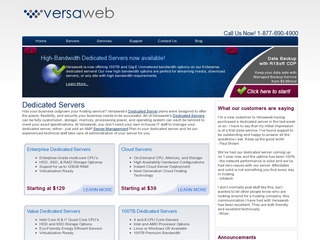 Rob, from Versaweb, got in touch with us a few weeks ago to list a dedicated server offer they were running at the time on WebHostingTalk. However it quickly sold out, so the offer was never published. Anyway these are now back in stock but are extremely limited in numbers.
Dual Intel Xeon L5420 Dedicated Server
Dual Xeon L5420
12GB DDR2 ECC Memory
500GB SATA Hard Disk
5 IPv4 Addresses / Private VLAN
10TB Bandwidth
1000Mbps Port Speed
$49 Per Month
$139 Per Quarter ($46 per month + free upgrade to 24GB RAM)
Location: Las Vegas, Nevada
With 12GB RAM, or 24GB if you pay quarterly, these servers are not exactly 'LowEnd' except for price. Still, I thought the offer was worth sharing. Versaweb were founded in 2006 and is an IT services provider specializing in managed and unmanaged dedicated hosting services for small and medium business across the US and around the world. "Rob" also happens to be the founder and Vice President of FiberHub, formerly VegasNap, who operate a 14,000 square foot datacenter in Las Vegas. Once your order has been verified by their billing department, your server should be online within 1-2 business days – in many cases, they will even have your server up the same day.

Versaweb do not offer refunds and if you decide to cancel you must give at least 5 days notice or you will be billed for the next month. They accept most major credit cards (Visa, MC, Discover, Amex) as well as Paypal payments. They also accept wire transfer payments but only for amounts over $500. IRC services of any kind – clients, servers, bots, etc are strictly prohibited on their network. For further information, you may want to view their Terms of Service & Acceptable Use Policy.
Network Information:
Servers are housed at the Fiberhub datacenter in Las Vegas, Nevada.
Test IPv4: 199.47.210.50
Test File: http://199.47.210.50/100mbtest.bin