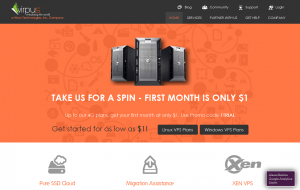 Kenneth, from Virpus, has sent in this special offer for 25% off their VPS offering (with the exception of the base plan). The plan listed below is the only plan, with the exception of the base plan, that falls within the LowEnd pricing limits.
The offer
1024MB RAM
2048MB Swap
4 CPU cores
30GB SSD space
3TB transfer
1Gbps uplink
1x IPv4
XenPV/SolusVM
Coupon: 25LIFE-122014
$5.25/month
Virpus is part of Wow Technologies, Inc. which is an established company. According to Kenneth, their customers include Microsoft, Moz, Vulcan, and Rosetta Stone. They have been in the VPS business since 2006. All servers will be deployed in their Seattle, WA locations. More information about that may be found here. All nodes have at least dual Intel Xeon CPUs with SSDs in hardware RAID10 and up to 2Gbps uplinks in a redundant setup: sounds like a serious setup! Reviews on their last offer, which was December 2012 (so two years ago) were actually not that good. It seems that was still in Kansas city and from what I can tell, they've been purchased by Wow Technologies later. I'm looking forward to hear from current customers to see how they are doing now.
PayPal, Credit Card, Bitcoun, and Mail In Payment are all accepted payment methods. Virpus offers a 99.9% uptime SLA and instant activation (given no fraud check trigger something, I guess). For all the details on what is and what is not allowed, please read their Terms of Service!
Network information
Wow Technologies Inc. – Seattle, Washington, USA
Test IPv4: 208.89.211.54
Test file: http://sea.virpus.com/100mb.test