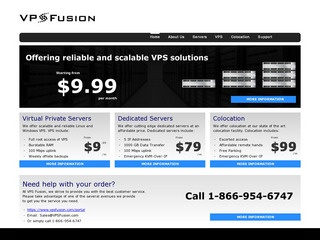 I know it's not pancake day but up next, we have some maple syrup for you! Hussain, from VPSFusion, has sent in these exclusive offers located in Canada.
LowEndBox VPS Special

1024MB RAM
1152MB Burst
Equal Share CPU
20GB Disk Space
200GB Bandwidth
100Mbps Port Speed
1 IPv4 Address
OpenVZ/SolusVM
$6.99/Month – Order Link

AMD FX-4170 Zambezi 4.2 GHz

Quad Core CPU (4 x 4.2 GHz = 16.8 GHz)
8GB DDR3 RAM
1000GB SATA III Hard Drive
1000GB Bandwidth
100Mbps Port Speed
1 IPv4 Address
Emergency KVM-Over-IP
"Fast" server reboots
$49/Month – Order Link
Whilst VPSFusion are new to LowEndBox, they have been providing 'scalable and reliable hosting solutions' since the company was founded in February 2010. Virtual servers will be deployed instantly, whereas dedicated servers have a 24 hour setup time. VPS servers are Raid 1, but VPSFusion do take Weekly off site backups. Services are prorata billed. Unfortunately I couldn't find any reviews regarding this provider, except this somewhat confusing post which indicates Hussain previously ran UBhosting. As you may remember, we featured UBHosting twice before.

VPSFusion currently only accept payments via Paypal. They offer a 30 day money back guarantee for their vps servers and provide a 99.9% Uptime guarantee. A selection of different addons are available to purchase for both their virtual and dedicated servers. TUN/TAP enabled on demand. For further information, take a look at their Terms of Service.
Network Information:
Test IPv4: 206.53.55.4
Test File: http://www.vedeoh.com/CentOS-6.2-x86_64-netinstall.iso