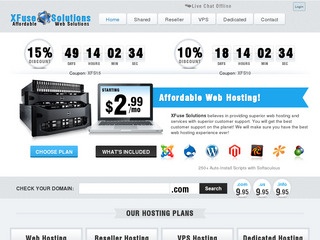 Duke, from XFuse Solutions, has got a new offer for us to help celebrate their one year in business anniversary. They have recently launched a new location (Buffalo, NY) and launched a fresh node for this offer.
OVZ1.5GB – LEB Plan
2 CPU Cores
1.5GB RAM
3GB vSwap
120GB RAID10 DiskSpace
1000GB Bandwidth
100Mbps Port Speed
1 IPv4 Address
OpenVZ/SolusVM
$6.99/Month | Order Link
XFuse Solutions LLC were founded in early June 2012 and are based in Louisiana – happy anniversary! They have been featured a few times before on here, mostly recently in May. They are also active on our sister website, lowendtalk. Each account is provided with Free Domain DNS hosting. They have a pretty cool 404 page. Wouldn't it be cool if their next location was aboard the Millennium Falcon? Looking back at their older offers, reviews have always been very good. If you have a service, do leave us a review below.

XFuse Solutions accept payments via PayPal, Google Checkout, Credit/Debit Card or you can Mail In Payment. They offer a 30 day money back guarantee. Each and every VPS that they provide comes with the ability to set RDNS from with in the VPS Control Panel. If you require a custom Operating System, send them a link to it and they'll upload it for you. Then they will assign the Operating System to you, so only you can see/use it. More IP's available upon request at a rate currently set at $1.50/month per IP. As usual, we advise that you read their Terms of Service and Acceptable Usage Policy before purchasing.
Network Information:
Buffalo, NY (ColoCrossing)
Test IPv4: 192.3.13.30
Test Files: http://stats.buf1.xfusesolutions.net/test_files/100mb.test & http://stats.buf1.xfusesolutions.net/test_files/1gb.test