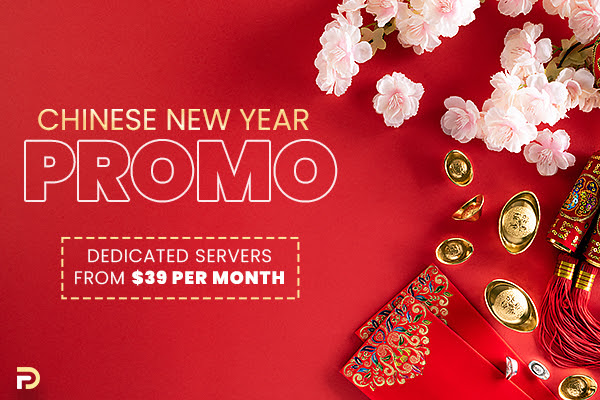 Happy Lunar New Year from DediPath!
They're bringing us quite a lovely assortment of offers to start 2023.  Check these out:
Get a 1GB VPS with unmetered bandwidth for only $15/YEAR!
Want 2GB?  Only $20/YEAR!
cPanel starting at $9/YEAR!
And cheap dedi servers starting at $39/month!
In case you've been living under a rock and have never heard of DediPath, here's a bit about them: DediPath was established in 2017. DediPath is a provider of infrastructure as a service (IaaS) offering dedicated servers, colocation, VPS and IP transit services in Los Angeles, CA, Secaucus, NJ, Dallas, Atlanta, Jacksonville and Las Vegas, Nevada. DediPath offers 24x7x365 technical support as well as a 99.99% uptime SLA. Our top priorities are service uptime and customer satisfaction.
These offers are in Los Angeles, Secaucus (New Jersey), Las Vegas, Jacksonville, Dallas, Atlanta, Denver, Phoenix, Seattle, or San Jose.  If you're looking in North America, DediPath is local!
Now read on to save!  And if you've been a DediPath customer, please tell us about your experience in the comments below.  Thank you and enjoy.
Datacenter Info
Los Angeles, CA
Test IPv4: 194.180.179.242
Test file: http://lg.lax.dedicontrol.com/10000MB.test
Looking glass: http://lg.lax.dedicontrol.com/
Secaucus, NJ
Test IPv4: 91.132.1.132
Test file: http://lg.dc03.dedicontrol.com/1000MB.test
Looking glass: http://lg.dc03.dedicontrol.com/
Las Vegas, NV
Test IPv4: 5.104.78.26
Test file: http://lg.dc07.dedicontrol.com/1000MB.test
Looking glass: http://lg.dc07.dedicontrol.com/
Jacksonville, FL
Test IPv4: 45.81.7.179
Test file: http://lg.dc08.dedicontrol.com/1000MB.test
Looking glass: http://lg.dc08.dedicontrol.com/
Dallas, TX
Test IPv4: 185.161.69.26
Test file: http://lg.dal.dedicontrol.com/1000MB.test
Looking glass: http://lg.dal.dedicontrol.com/
Atlanta, GA
Test IPv4: 45.9.15.195
Test file: http://45.9.15.195/1G.test
Looking glass: http://lg.atl.dedicontrol.com/
Denver, CO
Test IPv4: 172.81.40.35
Test file: http://172.81.40.35/1G.test
Looking glass: http://lg.den.dedicontrol.com/
Phoenix, AZ
Test IPv4: 69.25.116.107
Test file: http://69.25.116.107/1G.test
Looking glass: http://lg.phx.dedicontrol.com/
Seattle, WA
Test IPv4: 69.25.117.188
Test file: http://69.25.117.188/1000MB.test
Looking glass: http://lg.sef.dedicontrol.com/
San Jose, CA
Test IPv4: 74.217.183.180
Test file: http://74.217.183.180/1000MB.test
Looking glass: http://lg.sje.dedicontrol.com/
VPS Host Node Specifications
2x Intel Xeon E5-2660 or better
Minimum of 128GB RAM
8x 2TB SSD
Hardware RAID10
1Gbps uplink
Phoenix, San Jose, and Seattle:
Rzyen 3900X
NVME Storage
128GB RAM
Ryzen OpenVZ VPS Offers
1GB RAM Ryzen VPS
1 x Cores
10GB NVME
1 IPv4
Unmetered Bandwidth
1Gbps Port
OpenVZ
$18/Year
[ORDER]
2GB RAM Ryzen VPS
2 x Cores
20GB NVME
1 IPv4
Unmetered Bandwidth
1Gbps Port
OpenVZ
$28/Year
[ORDER]
4GB RAM Ryzen VPS
3 x Cores
30GB NVME
1 IPv4
Unmetered Bandwidth
1Gbps Port
OpenVZ
$48/Year
[ORDER]
Additional Ryzen NVME OpenVZ plans available here: https://dedipath.com/ryzen-nvme-vps
Other OpenVZ VPS Offers
1GB RAM
1 x Cores
10GB SSD Space
1 IPv4
Unmetered Bandwidth
1Gbps Port
OpenVZ
$15/Year
[ORDER]
2GB RAM
1 x Cores
20GB SSD Space
1 IPv4
Unmetered Bandwidth
1Gbps Port
OpenVZ
$20/Year
[ORDER]
4GB RAM
2 x Cores
40GB SSD Space
1 IPv4
Unmetered Bandwidth
1Gbps Port
OpenVZ
Free DDoS Protection
$35/Year
[ORDER]
8GB RAM
4 x Cores
60GB SSD Space
1 IPv4
Unmetered Bandwidth
1Gbps Port
OpenVZ
Free DDoS Protection
$75/Year
[ORDER]
Additional OpenVZ plans available here: https://dedipath.com/ssd-vps
KVM VPS Offers
1GB RAM
1 x Cores
10GB SSD Space
1 IPv4
Unmetered Bandwidth
1Gbps Port
KVM
Free DDoS Protection
$15/Year
[ORDER]
2GB RAM
1 x Cores
20GB SSD Space
1 IPv4
Unmetered Bandwidth
1Gbps Port
KVM
Free DDoS Protection
$25/Year
[ORDER]
4GB RAM
2 x Cores
30GB SSD Space
1 IPv4
Unmetered Bandwidth
1Gbps Port
KVM
Free DDoS Protection
$45/Year
[ORDER]
8GB RAM
4 x Cores
30GB SSD Space
1 IPv4
Unmetered Bandwidth
1Gbps Port
KVM
Free DDoS Protection
$45/Year
[ORDER]
Dedicated Servers (New York City)
E3-1230v3
2TB HDD or 250GB SSD
16GB RAM
/29 IPv4
1Gbps Unmetered
20Gbps DDoS Protection
Price: $49/m
[ORDER]
Dual E5-2620v2
2TB HDD or 250GB SSD
32GB RAM
/29 IPv4
1Gbps Unmetered
20Gbps DDoS Protection
Price: $55/m
[ORDER]
Dual E5-2670
2TB HDD or 250GB SSD
32GB RAM
/29 IPv4
1Gbps Unmetered
20Gbps DDoS Protection
Price: $65/m
[ORDER]
Dedicated Servers (Los Angeles!)
E3-1240v2
2TB HDD or 250GB SSD
16GB RAM
/29 IPv4
1Gbps Unmetered
20Gbps DDoS Protection
Price: $39/m
[ORDER]
E3-1270v2
2TB HDD or 250GB SSD
16GB RAM
/29 IPv4
1Gbps Unmetered
20Gbps DDoS Protection
Price: $45/m
[ORDER]
E3-1270v6
2TB HDD or 250GB SSD
16GB RAM
/29 IPv4
1Gbps Unmetered
20Gbps DDoS Protection
Price: $60/m
[ORDER]
Dual E5-2630L
2TB HDD or 250GB SSD
32GB RAM
/29 IPv4
1Gbps Unmetered
20Gbps DDoS Protection
Price: $50/m
[ORDER]
Dual E5-2620v2
2TB HDD or 250GB SSD
32GB RAM
/29 IPv4
1Gbps Unmetered
20Gbps DDoS Protection
Price: $55/m
[ORDER]
Dual E5-2670
2TB HDD or 250GB SSD
32GB RAM
/29 IPv4
1Gbps Unmetered
20Gbps DDoS Protection
Price: $65/m
[ORDER]
Shared Hosting Offers
Features:
* cPanel Access
* Softaculous
* 7Tbps+ Path Always-On DDoS Protection
* Outbound Mail Powered by MailBaby
* Unlimited Bandwidth
* Daily Backups by JetBackup
* Pure Enterprise SSD Drives
* Unlimited Domains
* Free SSL Certificates
* LiteSpeed Web Server
* Unlimited Databases
Personal Plan
30GB SSD Disk Space
Unlimited Bandwidth
Daily Backups
Unlimited Domains
Unlimited Databases
Unlimited SSL Certificates
Unlimited Email Addresses
7Tbps+ Path Always-On DDoS Protection
ONLY $9/Year
Select Annual Billing and use Coupon Code: nyshared822
[ORDER]
Business Plan
100GB SSD Disk Space
Unlimited Bandwidth
Daily Backups
Unlimited Domains
Unlimited Databases
Unlimited SSL Certificates
Unlimited Email Addresses
7Tbps+ Path Always-On DDoS Protection
ONLY $13/Year
Select Annual Billing and use Coupon Code: nyshared1322
[ORDER]
Enterprise Plan
200GB SSD Disk Space
Unlimited Bandwidth
Daily Backups
Unlimited Domains
Unlimited Databases
Unlimited SSL Certificates
Unlimited Email Addresses
7Tbps+ Path Always-On DDoS Protection
ONLY $30/Year
Select Annual Billing and use Coupon Code: nyshared3022
[ORDER]
Latest posts by raindog308
(see all)