Remember when you could just fire off an email and be sure it'd arrive?  Me, neither, it's been so long.  Email deliverability is a real hassle here in the 21st century…thanks for this look at one solution, Tom!  -raindog308
---
The last time I wrote about email was two months ago, in Setting Up an Email Server; Delivery Issues When Sending From A Clean IP.
If you haven't read that post, it might be a good idea to take a look at it before reading this post. The previous post has context and several links which I believe are helpful.
This post continues a story about email deliverability. Recall from the previous post that someone I know emailed me about having lost her cell phone. I replied to the Gmail address from which she had emailed me. I was using my self-hosted email MTA which, as far as I can tell, had everything configured correctly. Several email testing websites and even an email expert said my MTA was correctly configured. My MTA had been in use for years and previously inboxed just fine at Gmail. However, notwithstanding my previous Gmail inboxing success, and despite that I was replying to an email she sent to me, my reply still went to her spam.
She moved my email out of spam and into her inbox, and we thought everything might be fine. But, no! My next email also went to her spam. So I asked her to add my sending address to her contacts. Wow! Again, my next email to her still went to spam. I could have asked her to set a filter in her Gmail, but she's less interested than I am in low level email manipulation. So, what to do about Gmail imboxing?
Happily, I now seem to have entirely solved my newly found Gmail deliverability problems by switching from my self-hosted MTA to Migadu. Please read more to learn why I picked Migadu and how to set up Migadu.
Why I Picked Migadu
In looking around for context on what others were doing, I found Drew DeVault's post on email providers. Drew suggests two "objective and non-negotiable" criteria for selecting an email provider:
1. Support for open standards including IMAP and SMTP

2. Support for users who wish to bring their own domain

This is necessary to preserve the user's ownership of their data by making it accessible over open and standardized protocols, and their right to move to another service provider by not fixing their identity to a domain name controlled by the email provider. It is for these reasons that Posteo, ProtonMail, and Tutanota are not considered suitable.
When I went to check out Migadu, I immediately loved their support for command line software, which is funny, because I've been using their web interface almost exclusively. I also talked by email with Dejan. I was delighted with Dejan's prompt and friendly responses to my questions. Also, the Migadu website has helpful, well written Guides and Support FAQs which answer many questions.
Migadu's Pricing is based on the number of emails sent and received. This pricing model enables one to set up several domains and several addresses within each domain at no additional charge. For me, the $19/year Micro plan was fine. I saved $60/year by no longer needing the two VPSes on which my main and backup email MTAs were running. Micro allows 200 emails in and 20 emails out per day plus a soft limit of 5 GB storage.
I've been with Migadu since the beginning of March, and, so far, everything has worked great! I haven't experienced any problems. I haven't needed any support tickets. But, if I did, I'm sure Dejan would get everything resolved in a friendly way and in good time.
The best part about Migaudu is that it seems to have totally solved my Gmail deliverability problems. I only send very few emails, but now I no longer worry about Gmail putting my emails into spam.
One thing I haven't yet been able to do with Migadu is see the sending MTA logs. The Migadu web interface has "Recent Logs," but this lists only timestamp, sender, and recipients. Migadu doesn't seem to have a way to show me the conversation between the sending and the receiving MTAs, and I really miss that.
Fundamentally, I think Gmail inboxing works better for me with Migadu than with my self-hosted MTA because I was sending only a very few emails — not enough to give Gmail's spam selection sufficient data upon which to judge. If I send someone who lost her phone and email asking, "Do you need any help?" maybe that quite reasonably could look to Gmail like the beginning of a spam or phishing campaign. In the absence of a lot more emails sent from me, how is Gmail to decide?
Migadu Setup
After creating your Migadu account, from the Migadu Dashboard, click "New Domain." Enter the domain name, and click "Add Email Domain." This brings you to a helpful page where all the DNS settings are listed. All you have to do is enter the information into your DNS. Then click "Done? Check Configuration." Finally, add additional email addresses, and you should be good to go. The webmail interface is at https://webmail.migadu.com. Here's a screenshot of the domain setup page with the helpful DNS instructions: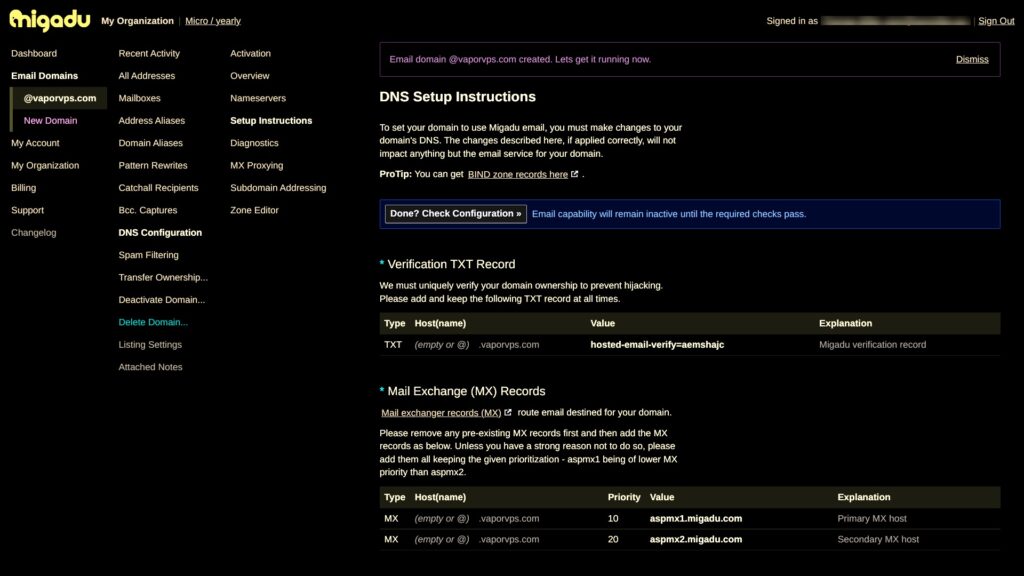 How To Try Migadu
Head over to https://www.migadu.com/ and sign up.
---
---