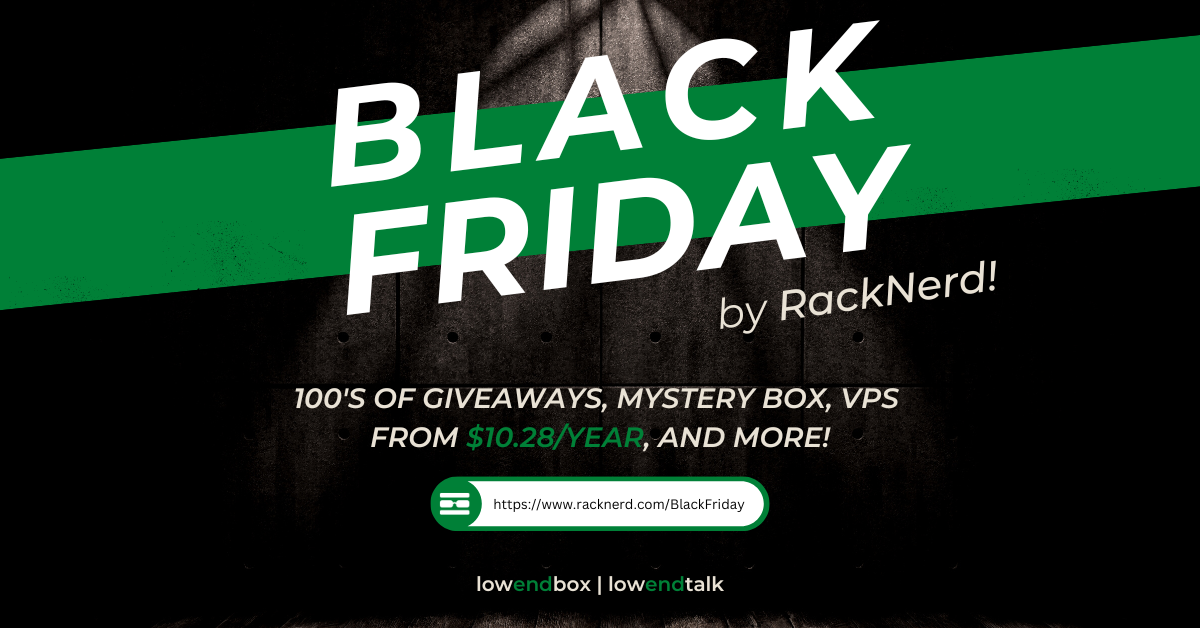 Community provider RackNerd has launched their Black Friday deals over on LowEndTalk! Their thread has already garnered a lot of interest from the community in a short period of time (over one million views!), thanks to the excellent deals they are providing on Black Friday (KVM VPS starting from $10.28/Year, deals on shared/reseller hosting, and more!), introducing the Mystery Box for extra savings, as well as tons of giveaways for the LowEndTalk community. RackNerd was also voted by the LowEndTalk community as the #1 Top Provider + #1 Most Professional Provider.
View RackNerd's Black Friday deals: https://www.racknerd.com/BlackFriday/
Join RackNerd's LowEndTalk party thread here: https://lowendtalk.com/discussion/182479/official-b-l-a-c-k-f-r-i-d-a-y-thread-community-endorsed-take-a-peek-racknerds-black-friday/ 
Be sure to join in the fun on their LowEndTalk party thread to enjoy some deals, hang out, and WIN SOME PRIZES:

They are giving away

OVER 100

items as part of the main giveaway for their Black Friday 2022 event!

Separately and in addition to the above, they are doing an engagement giveaway! RackNerd is giving away an

ASUS Gaming Laptop

for the #1 most engaged user in their thread, along with other prizes for second to sixth place winners

VPS deals to be had from

$10.28/Year

! Pure SSD performance, powered by KVM virtualization, available to deploy in multiple datacenter locations!

Mystery Box:

RackNerd is introducing the Mystery Box this Black Friday, providing you with even more savings towards your Black Friday order!

Double bandwidth?

Yes, of course!

FREE Clientexec License

for all orders!

FREE VPS

giveaways to LET community members – yes, seriously!

Random giveaways

throughout the thread (Free VPS's, account credits, cash, gift cards, resource upgrades, RackNerd branded swag, and more!)
Are you good at solving math problems, like this one?
If so, you might have a competitive advantage in their giveaways! For example, RackNerd recently gave away a dedicated server in their LowEndTalk thread HERE, to the very first person who solved an extremely complicated math question correctly! LowEndTalk community member @merlinvn was the first one to answer the math question correctly, in under 8 minutes! That's quite impressive, for such a complex math question.
Of course, if you're not a math genius, you can still participate and win some giveaways. RackNerd is doing tons of random giveaways throughout the thread, on top of the main giveaway, some of which do not require any advanced math skills.
Check out RackNerd's Black Friday 2022 thread over at LowEndTalk by clicking HERE, reload it, celebrate it, have some fun, and share it with your friends. Happy Black Friday!
Latest posts by raindog308
(see all)